Proven Practices for Developing High Potential Individuals
In a previous white paper, Unlocking the DNA of Potential, I presented a multi-dimensional model of advancement potential and offered a method for identifying and measuring potential.  Pictured below is a visual demonstration of this model.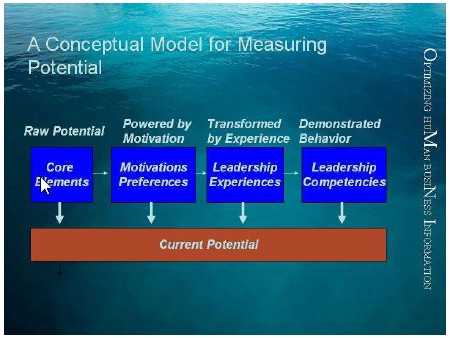 In a recent global survey of 80 companies, 69% of companies say they are "somewhat" or "significantly" challenged to develop the leadership talent required to compete in emerging markets (Corporate University Exchange, Leadership 2012 Survey).  In this blog, I wanted to discuss some best practices for developing high potential individuals.  This list is not exhaustive but contains proven strategies:

Stretch Assignments – Experience matters.  Experience is the primary way critical leadership skills are developed.  However, the current roles of high potentials are not likely to routinely afford the kind of opportunities that are most transformational.  The Center for Creative Leadership and others have researched the kinds of experiences that are most important for leadership development.  Stretch assignments should be challenging in nature and designed to fill specific experience gaps.

Learning by doing – Action Learning involves working with others to analyze an actual work problem and develop an action plan. The action learning team is typically cross functional and diverse in background which provides an opportunity to be exposed to other perspectives and parts of the business.  Analyzing, planning and implementing solutions provides a rich foundation for learning by doing and has immediate practical benefits for the organization.
Leaders developing leaders – Mentoring and coaching relationships with more senior leaders are important to developing an appreciation for the realities and demands of higher level jobs.  The mentor provides a window into senior roles and passes on important learning and insights that have been acquired from their experience.  Professional career coaches also may be assigned to high potential individuals.
Feedback – All learning involves some form of feedback but formalized feedback programs can be particularly effective.  Feedback is typically focused on competencies that are important for a higher level of leadership and involve some form of assessment.  The most powerful form of assessment utilizes behavioral simulations which parallel the actual demands of higher level positions.  To maximize learning, feedback is provided immediately after participation in the simulation.  More formal feedback is provided later in the form of a written report.  This report is used to structure an individual development plan.  Another common form of assessment is the use of multi-rater or 360 surveys.  In this approach, individuals that surround the individual on a daily basis provide ratings of performance in specific competency areas.  Again, the feedback report is used to guide individual development plans.
Job Rotations – Job rotations are used to increase exposure to the business as a whole.  The individual is systematically moved laterally into temporary assignments in various parts of the business.  These assignments may last a year or more and provide an opportunity to acquire new knowledge, learn new skills and build a broad based network of contacts.
Developing high potentials takes more than effective developmental processes.  It demands a carefully planned program with administrative controls, evaluation components, and organizational commitment.  However, proven developmental strategies are a definite pre-requisite for success.
To learn more about how OMNIview can help your organization tackle its High Potential initiatives, please contact us at 877.426.6222