Reddit AMA Topics with Dr. Lowell Hellervik
In preparation for our upcoming "Ask Me Anything" session on Reddit, featuring our owner and Chairman, Lowell W. Hellervik, I thought I might try and stimulate your questions with topics to discuss with Lowell. But first, let me provide a little bit of inside info into "The Man."
Lowell Hellervik is a passionate leader, both within his own organizations, and with those he works with. I have been witness, and luckily so, to see Lowell at work with companies large and small. He has the unique ability to adjust his delivery of information to the audience he is addressing. From small manufacturing facilities to coaching and developing the top executives at many Fortune 100 companies, he is able to identify needs and structure plans that align with both individual and organizational goals.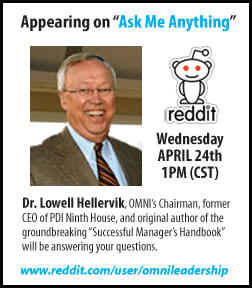 Great Discussion Topics with Lowell Hellervik
To this end, here are some thoughts for topics you may like to discuss with Lowell:
1. How do you feel about the employment interview? (This should really get him going!)
2. What are the most common Human Resource mistakes you have seen organizations make?
3. Tell us about your four pronged development planning process? He will be shocked and amazed that you know about it.  (Shhhhhhhh … I have told you NOTHING!) As a follow up question, what makes this process so successful compared to the "typical" development planning session?
4. You have been named the "Father of Assessment". Tell us about your most interesting (and by this I mean crazy) client and potential candidate. How did you handle the difficult discussion that would have followed?
5. Ask about his beloved Minnesota Gopher Basketball Team – you'll probably hear about his opinion surrounding the importance of assessment in selecting a basketball coach!
6. What time do you go to bed at night? (this will get you a funny answer, again, I have told you nothing!)
Topics to steer clear of:
1. Norwegians vs. Swedes – you just won't win!
2. Blackberry or iPhone – which is better (he's transitioning between the two.)
3. Summer vs. Winter – you will be surprised at his answer!
Join us April 24 for the Reddit AMA with Dr. Lowell Hellervik!
Anyway, I hope you will join us on April 24th at 1:00 pm CST with Lowell Hellervik on Reddit. Go to reddit.com/user/omnileadership to join the discussion!
If you don't have a Reddit account, it is very simple to set one up. First, go to Reddit! Then, on the upper right side of Reddit, click on "Register". A window will pop up asking you to create a username, add an email, create a password, and prove you a human using a CAPTCHA system. Then, click account! It's really that easy. Then search for OMNI Leadership on Reddit and join the exciting conversation with Dr. Lowell Hellervik!